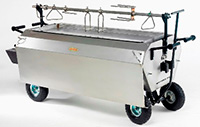 Get ready to take your second hand hog roast machine to the limits, with our exceptional spit roast kit designed to give you that traditional spit roast flavour with minimum fuss. Even the most novice of chefs will be able to use this set with ease. It features a sturdy spit pole and 240 volt motor that slowly rotates your meat for that succulent and delicious finish.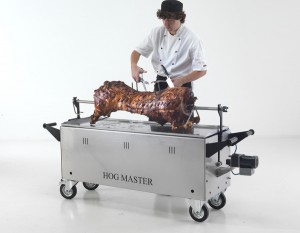 Our spit roast kit can be used to cook even the largest of hogs, up to 80kgs per whole pig. The user can control the temperature of the two full length burners which have thermostats installed Monitor your cooking meat through the toughened glass window before raising to serve. Lift up the spit pole using the two support bars and you can carve the meat directly from the spit in front of your guest eyes.
To catch all that juicy meat, place our carving tray underneath our spit roast kit. The carving tray also works as a hot plate, to keep your hog warm.
Do you have any queries regarding our spit roast kit or any other of our accessories or machines? Don't hesitate to get in touch, we are here to help!