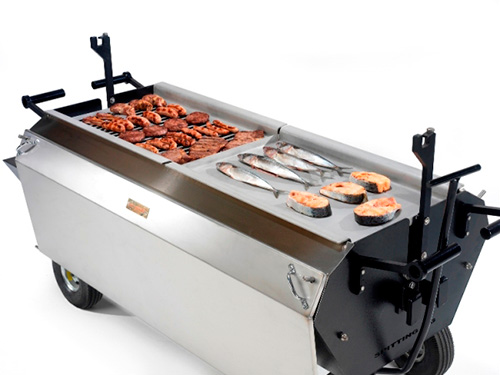 Transform your second hand hog roast machine into a fully-fledged BBQ. Enjoy those chargrilled flavours any time of year! This upper level cooking accessory expands your catering options dramatically and is very straightforward to use. The BBQ plate is placed on top of our Platinum hog roast machine whilst the doors of the machine (usually used in the roasting process) are removed and hug on either end of the machine.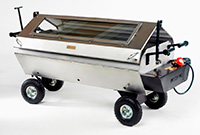 The BBQ is heated by two thermostatically controlled burners that run the full length of our hog roast machine. They allow complete control over your Barbie temperature, so there's no excuse for undercooked or overcooked meats. Try your hand at cooking all your summer favourites: burgers, steaks, sausages, kebabs and grilled fish. Whatever you or your guests fancy, it's possible to barbeque on top and warm beneath in the lower level cooking area. The versatility of this accessory is great.
To find out more about his best-seller, give us a call or make a visit to our showroom. We have over 50 years catering and hog roast experience so have a wealth of knowledge to assist with any questions you may have about this add-on or our hog roast machines.